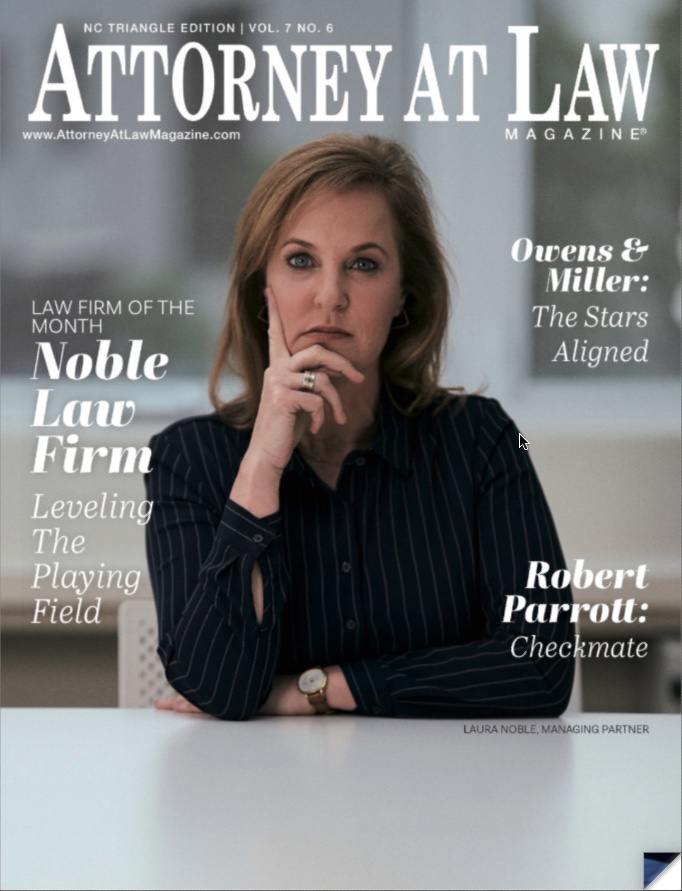 Attorney at Law: Law Firm of the Month
"This is a special place," Laura Noble heard a client say at the firm's annual holiday party this past December. The client described how she was "a total wreck" after a year working without pay in a startup and then getting fired. "She expressed her gratitude to the entire team at Noble Law Firm, who understood the injustice of her situation and were eager to be her advocates," recalled Noble.
Laura Noble, Managing Partner of the law firm she created more than a decade ago, said that this client's experience epitomizes one of her primary reasons for forming her employment law firm. "Social justice and the law have been my life's focus, so a career as an employment lawyer made perfect sense. I also wanted to revolutionize the practice of law. My goal was to create a 21st-century law firm that believes in what we describe as a 'Triple Bottom Line.'"
The elements of the triple bottom line are client impact, financial impact, and societal impact. Their commitment focuses on three pillars – creating transparent value in the client experience, generating financial resources to sustain competitive advocacy, and creating lasting social change to give employees equitable protections. "As part of that change, we have created a work environment that isn't typical for law firms. To us, a healthy work culture is as important as a healthy balance sheet," explained Noble.
CLIENT IMPACT
The firm leans heavily on technology and client feedback to achieve its goals, particularly in client impact. "We are deeply invested in improving the client journey as they work through their legal issue with us," said Josh Kalish, the firm's CFO and Director of Client Services. "Our technology enables us to access our client contacts, communications, client portals, and matter data from anywhere," says Kalish. "Additionally, we look at the entirety of the client experience and ask at the end whether the client is satisfied – not just with the outcome but with the experience. The outcomes are sometimes closure, companionship, validation and financial runway – we listen to our clients about what they need and then use our technology and systems to enhance those personal interactions and access to our legal team," said Kalish.
FINANCIAL IMPACT
The firm's ability to generate investments in technology, infrastructure, and analytics help "level the field" for clients fighting large companies, according to Noble.
She explained that the firm is cognizant that law firms have been historically slow to adapt to change. "We embrace systems and process optimization borne out of forward-thinking law practice management trends," said Noble. "Using leading-edge technology, we improve our footprint, our capabilities, and level the field."
SOCIETAL IMPACT
The #MeToo movement took center stage several years ago following sexual harassment charges against such high-profile people as Harvey Weinstein and Bill Cosby. Noble Law became an outspoken advocate in the movement, providing expert context to O Magazine, the New York Times, and USA Today.
And while the story has faded from the front pages, Noble Law continues to remain engaged on the issue. The firm conducted and published a survey of state laws addressing sexual harassment. North Carolina is one of those states that does not have a state law protecting employees from sexual harassment. "We need to get the message out that our state should protect its citizens from workplace harassment," said Noble.
Noble said the firm is proud of its involvement with the National Women's Law Center and the Times Up Legal Defense Fund. "The Fund helps low-income victims of sexual harassment pursue legal action by partially funding the cost of litigation," said Noble. "Many of our impacted clients would not have access to the courts without the Fund," she added.
As part of its social impact mission, Noble said her firm feels strongly about creating healthier environments for law service providers. "We realize that our effectiveness relies on the cohesiveness and satisfaction of our teams. We work hard to create a sense of community here. For example, our staff works remotely on their schedules to accommodate childcare or eldercare issues. We purposively bring our staff and paralegals into our decision-making process because it makes us more efficient and gives us insight into the client experience that we might not otherwise have," said Noble.
THOUGHT LEADER – LAURA NOBLE
Laura Noble's interest in employment law can be traced to her childhood in Michigan, where her parents gave her "a strong sense of middle-class, mid-western values." Noble said, "My parents and grandparents taught me to treat people with dignity and compassion. Those values guide our firm every day."
Noble went to The University of Vermont, where she earned a degree in political science. She earned her Juris Doctor from the University of Maryland School of Law.
After law school, she took a position as an Assistant District Attorney in Brooklyn. Following the ADA role, she worked for a NY corporate litigation firm but found it wanting. She left the corporate world and signed on as a Deputy Director of Advocacy and Legal Services for Covenant House in New York, a non-profit serving homeless youth. "I loved the intensity and energy in New York City, but I am exceedingly happy we chose to move to Chapel Hill. North Carolina has been an outstanding place to raise our family."
After moving to North Carolina, Noble explored different areas of law and decided to build an employment practice. "Starting my own employment law firm felt right," said Noble. "I am a big believer in do what you love, and the success will follow." Over the past five years, the firm has tripled in size and opened offices in Charlotte and New York City.
VETERAN LITIGATOR – KATIE ABERNETHY
Kathryn Abernethy, a veteran litigator whose career has included representation of some of the world's largest companies, said she welcomes the challenge of fighting large, expensive, and over-confident law firms using exceptional strategy and cutting-edge technology. "Clients sometimes feel overwhelmed when their employer's law firm outnumbers and outspends their own. Sometimes you must engage in some litigation jiu-jitsu – using the employer's own weight and momentum against them to level the playing field," Abernethy explained.
Abernethy, whose practice focuses primarily on glass ceiling, pregnancy discrimination, and gender compensation issues, frequently sees clients who are concerned about how imbalances in resources will affect their case. "I think for most of our clients, it's not about the big paycheck. It's about getting a fair result and feeling like an equal at the table instead of being bullied."
"We've heard from so many people, 'you were the first person who believed me or listened to me. Or didn't think I was crazy or didn't think it was my fault and understood what I've been through,'" said Abernethy. "For some, it's them telling us 'I hope that what happened to me won't happen to someone else at the company.'"
DEFENDER OF CIVIL RIGHTS – CHRISTINE RODRIGUEZ
Christine Rodriguez is Noble's newest partner in the Charlotte office. Rodriguez is a seasoned litigator with over twenty years' experience who grew up in New York City. Like Noble, Rodriguez started out as an ADA in New York before she moved to employment law. "Even in New York City, where the laws are more favorable to employees than in a lot of other jurisdictions, employment cases are hard. From the highly compensated executive to the restaurant server, it's about leaving that toxic work situation and moving on with their lives on their own terms."
THE FUTURE IS NOW
"We see the future of law firms changing, with greater emphasis on client purchasing power, transparency of pricing, and the use of analytics to optimize client outcomes and internal performance," observed Noble. "Some are predicting major disruption in big law in the new decade – that's why we are building the law firm of the future today."