In order to service our communities during these trying times, The Noble Law is committed to staying on top of these forefront legal issues. As leaders in employments law, we have an obligation to serve those in need. WRAL contacted us to help clarify this developing legal environment.
On Monday August 17th, The Noble Law's own Katie Abernethy appeared on WRAL 5 On Your Side to provide North Carolina employees and employers with answers to pressing questions. With new restrictions in the workplace, and risk of exposure to COVID-19, we have the information you need to know.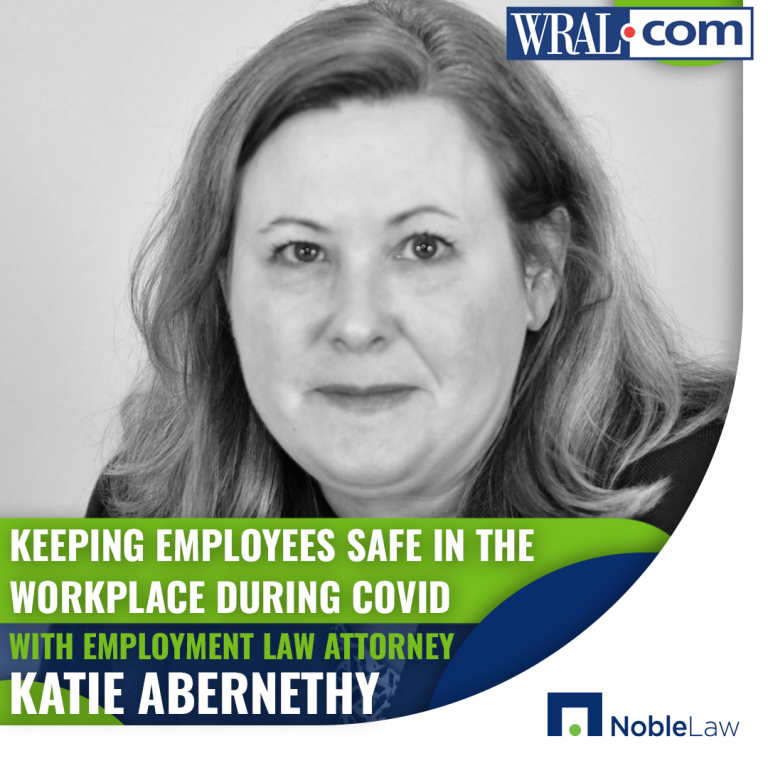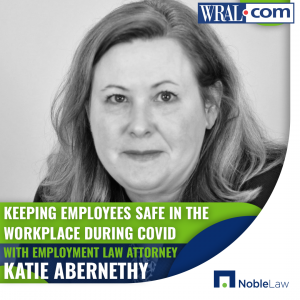 *Originally aired August 17th, 2020 at 18:37 PM EST
WRAL: We are hearing from many of you abvout COVID 19 safety where you work, especially the notification when there is a confirmed case. 5 on your side Monica Laliberte looks at what can be shared.
Monica Laliberte: So whether you work at a retailer, restaurant, or office building it is very possible that a coworker can be diagnosed with COVID19. Understandably if that happens many of you tell us you want to know, and you want you employer to take specific steps. Legal experts we talk to say its not that easy.
Thanks for calling WRAL, your phone calls and emails, one after another. Someone tested positive a couple days ago and the store isn't saying anything about it, no one is cleaning the back room, associates are panicking. Three stylists tested positive, the staff was not notified, and four new cases management does not say who has been in contact with them.
We took your questions to and concerns to a local employment attorney, Katie Abernethy, with the Noble Law Firm.
Katie Abernethy: There may be difference in opinion between the employee and employer about what is adequate.
Monica Laliberte: Abernethy addresses three concerns. First, notification.
Katie Abernethy: You will probably not receive a specific notice, and there is no current regulatory requirement for your employer to give you a specific notice. It is a you might be exposed, you should get yourself tested.
Monica Laliberte: Unless the employee give permission to share details, managers have limits.
Katie Abernethy: Because the employee that tested positive for COVID has legal protections in the workplace.
Monica Laliberte: Next, disinfection, a lot of you are asking why business are remaining open. The CDC says companies do not necessarily need to close operations if they can close off affected ares. Areas used by the person that was sick.
Katie Abernethy: What they are advising employers to do right now, is a regular, systematic, rigorous soak and water cleaning.
Monica Laliberte: She says ask about procedures to clean and disinfect. Third, risk, accepting we are in a pandemic and want and need businesses open. Abernethy says there is a level of risk we all accept.
Katie Abernethy: If an employee is looking for an environment in which they have no risk. That's where they are likely to come in conflict with the employer. Because, just opening the doors automatically is a health risk to some extent.
Monica Laliberte: An added note from Abernethy, if your employer is not following proper safety guidelines, you can file a complaint with the labor department. Go to their occupational safety and health division. I have a link with my story on WRAL.com. Monica Laliberte, WRAL 5 on your side.
NC Department of Labor's Occupational, Safety and Health Division
For additional answers on how COVID-19 affects your employment, we have made the following videos made available to assist you at no cost.
Transcript:
NC BAR: If you exhaust the two weeks of medical leave, and need to continue quarantine pursuant to a doctors order, do you then go on unpaid FMLA, or can the employer require that you burn your PTO first? What happens if you have already used your FMLA?
Laura Noble: If you exhaust the two weeks of expanded medical leave, and you need to continue quarantine pursuant to the doctors order, there is no more sick leave that you are eligible for. You will only get the unpaid FMLA if your employer was governed by FMLA, meaning they had 50 or more employees within 75 miles of each other, and you have worked there for 12 months for a total of 1250 hours. If you qualify for that, then yes you would get your unpaid family medical leave, and your employer would have restore you to your same or similar position at the end of that leave.
Transcript:
NC BAR: If we send an employee home due to being exposed to being exposed to someone else intheir home, do they qualify for anything?
Laura Noble: I think that would fall under the vulnerable of getting COVID-19, and I would apply for the paid sick leave under that provision. Then whether or not they would qualify for any unemployment would be if they're able to go back to work or not.
Transcript
Laura Noble: This leave is available in really two parts, for two reasons. The first part is unpaid leave. If you have a qualifying reason, and you give documentation to your employer, you are entitled for up to 10 days of unpaid leave for that qualifying reason. If you have a qualifying reason, and you've exhausted your ten days, then you are eligible for up to 10 weeks of up to 2/3 paid leave, that there is a cap to what you are entitled to. The two reasons are, you are caring for a child because their school has closed, or you're caring for a child whose child care providers are unavailable.
Transcript
Laura Noble: If we have a regular schedule, it is the average rate times scheduled number of hours for each day. So if you work 9-5 and you are salary that's pretty easy to figure out, if you're hourly that's pretty easy to figure out. If you have a varied work schedule, it gets a little trickier. They're going to look again to the past six months and the average hours either scheduled to work each day, and if that doesn't work they're going to look at the average hours that the employer and employee agreed to at the time of hiring, which is kind of interesting. If that doesn't work, then they will look at the average hours per day that you are schedule to work over the entire period of employment.
Now the question on how to use PTO.
Again the regulations are clear that they don't want employers to deny this leave because there is PTO available, but the employer can require the employee to concurrently use any accrued PTO. If you have 10 days of accrued vacation time you haven't used, you can go to your employer and ask for this expanded child care leave. If the employer grants you that, the employer can make you use that PTO for the first 10 days, then you can go back and ask for the additional 10 weeks if you have exhausted PTO. The employer must pay you for your full pay if your are using concurrent PTO pay. The employer will only get a tax credit for 2/3 of the pay if being used for concurrent PTO.
Transcript:
Laura Noble: What is the FFCRA? Is it a law that was put into effect April 1st this year, to end December 31st this year, so it has a very limited period of authority. It applies to private employers with fewer than 500 employees, and it applies somewhat to public employers. I say that because Office of Management and Budget just came out with a memo last week that said most federal employees with qualify for the paid sick leave, but not what they're calling the expanded family medical leave. This law interestingly applies equally to full time employees, part time employees, employees are jointly employed and day laborers. All employers are required to post these new laws so that their employees have an understanding of them. You can do it in the break room, assuming many of us are not there, you can do it by website or by regular mail. This poster is available from the DOL website.
Transcript:
Laura Noble: In sum what is the EPSLA? It is 80 hours under the paid sick leave for six different reasons. For the first three reasons, you get full pay subject to a cap. For reasons 4-6, you're going to get 2/3 of your pay subject to the cap. Interesting to note that pay is per person, not per job. So if I take my 80 hours at the Noble Law, and I go to a new law firm, I do not get a new 80 hours at the other law firm, and it does not matter how long I have been employed there.
Katie Abernethy: Let talk just for a second about the NLRB, obviously North Carolina being a right to work state, we don't encounter the NLRB perhaps as much as states that are more heavily unionized. I think what the biggest take away for most North Carolina employees and employers, with respect to NLRB policy, is that the idea of concerted activity is alive and well. It does work in mysterious ways when it comes to COVID, according to NLRB guidance.
So NLRB has expressly said that employees can continue to engage in concerted activity, and that it is perfect valid for them to engage in concerted activity to protest employer decisions regarding COVID-19. This may include protests by refusing to come to work, in other words, you can have a group of non-unionized employees who basically decide to get together and strike. That is valid as long there is a reasonable belief that unsafe conditions exist. Employees can as part of concerted activity, there is an NLRB decision, Karen Jo Young v. Maine Coast Regional Health Facilities (NLBR Mar. 30 2020), that I think is particularly important for employers to keep in mind right now. Which is part of concerted activity can include, as Karen Jo Young did, writing a letter to the editor of her local newspaper or talking to other news outlets, expressing mutual concerns about what their employer is doing during COVID-19 to ensure employee safety.
If you are experiencing problems in the workplace, or need more information on how to handle your workplace situation, contact us today by calling or filling out the linked forms below.