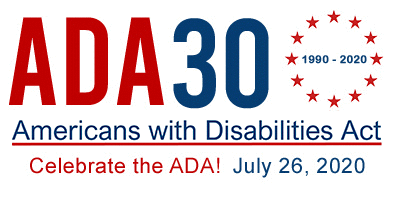 July 26th, the Noble Law Firm recognizes the 30-year anniversary of the Americans with Disabilities Act (ADA) that President George H.W. Bush signed into law. This federal mandate was monumental in changing the lives of individuals with disabilities in the United States. The ADA requires governments, businesses, and public areas to be accessible and provided guidelines for how employers must provide fair, inclusive treatment and even the playing field for workers with disabilities. From accessible parking spaces and wheelchair ramps, to less visible modifications of policies and barring disability discrimination in the workplace. Above and beyond what other civil rights legislation had required, the ADA imposed a duty on employers, governments, and business owners to affirmatively provide reasonable accommodations to employees and consumers with disabilities. The ADA inaugurated a comprehensive approach to integrating employees and citizens with disabilities into American society.
Prior to July 26th, 1990, the only federal protections for employment discrimination based on disability were for federal workers, contractors, or beneficiaries of government contracts and grants. This left a majority of American employees with disabilities without workplace protections; in other words, disability discrimination was legal for many employers in the United States. In 1986, the National Council on the Handicapped (Now the National Council on Disability, or "NCD") issued a report urging Congress to pass equal opportunity legislation for individuals with disabilities. Comprehensive coalitions of organizations, businesses and advocates collaborated in the passage of the initial ADA, and later, the ADA Amendments Act of 2008, which addressed the narrow construction Courts had given the law. The ADA has been a piece of living legislation, as it has grown through amendments and broader interpretation over the past 30 years to try to cover more employees and more insidious forms of discrimination. For example, more protections are still needed to address employees who face intersecting forms of discriminatory treatment, for example, based upon both disability and race or sex.
What does this mean for employees or applicants?
For those in the job market with disabilities, the ADA means that discrimination based on your disability is illegal. This bar on discrimination not only includes hiring discrimination, but also prohibits discrimination reflected in pay, promotions, firing, and harassment due to disability. Additionally, the ADA requires employers to provide reasonable accommodations to workers that have disabilities, such as modifications to the physical workplace or policies that may disproportionately impact employees with disabilities, as long as they do not causes the employer an undue hardship. The ADA and interpretive regulations now broadly define disability and provide guidance for employers and employees on accommodations.
Who are covered employees?
Employers with more than 15 employees.
An employee with a disability who is able to perform the essential functions of the position, with or without an accommodation.
An employee with history of impairment or disability.
An employee whom the employer regards as disabled.
What is a disability?
According to ADA guidelines a person can show that she/he/they has a disability in one of three ways:
A person may be disabled if he or she has a physical or mental condition that substantially limits a major life activity (such as walking, talking, seeing, hearing, or learning).
A person may be disabled if he or she has a history of a disability (such as cancer that is in remission).
A person may be disabled if he is believed to have a physical or mental impairment that is not transitory (lasting or expected to last six months or less) and minor (even if he does not have such an impairment).
We honor the federal protections afforded to individuals with disabilities in the workforce. We also acknowledge and honor protections afforded by some state laws that go above and beyond the federal protections. As advocates for all employees, The Noble Law's commitment to social justice includes improving opportunities and protections for employees that appropriately value them as contributing participants in the workplace.
For more information about the ADA and disability discrimination, visit https://www.eeoc.gov/disability-discrimination


If you need help, call us at:
North Carolina: 919.251.6008
New York: 212.662.6500
Fill out our online form at: